Experience The Perfect Pairing of Bourbon & Beef
( 6 min read )
Four years ago, Snake River Farms Marketing Manager, David Yasuda, considered himself more of a Scotch drinker. But when a food and beverage conference in Louisville brought him to the Kentucky Bourbon Trail™, he began to reconsider. It wasn't long after that Yasuda met Elijah Craig Whiskey Educator, Jack Choate, at the Boise Bourbon Bash in Idaho. That sparked an exciting new collaboration.
This Fall, Elijah Craig is proud to partner with Snake River Farms for their first-ever "Whiskey & Wagyu" series: pairing our award-winning Elijah Craig Small Batch Bourbon with delicious cuts of their premium beef. And as it turns out, American Bourbon Whiskey and American Wagyu beef aren't the only things that go great together; so do our company philosophies.
"What happens when you pair our award-winning Bourbon with some of the country's greatest beef? We decided to find out."
WHAT'S THE BEEF?
Just south of the Canadian border, somewhere in the wilderness surrounding Loomis, Washington, roams one of the largest herds of American Wagyu cattle in the United States. These exceptional animals belong to Snake River Farms and their parent company, Agri Beef, who rely on a professional network of ranch management teams, consulting geneticists, and licensed veterinarians to raise them well and produce beef that is, in a word, "life-changing."
What makes American Wagyu so special? "Traditional Japanese Wagyu is super marbled, super rich. It literally melts in your mouth," Yasuda explains. "And fat equals flavor in beef." But Snake River Farms takes a different approach. "We've crossed purebred Japanese Wagyu cattle with high-quality American breeds. So when you put the two together, you get the familiar flavor and meaty chew you expect of USDA Prime beef, plus the richness of Wagyu—and that's why people love it."
But producing some of the country's greatest beef doesn't just happen overnight. Like the extra-aging process of Elijah Craig Bourbon, great things take time.
DEVELOPING FLAVOR
When you prioritize quality over quantity, the process takes longer. At Snake River Farms, the quest for excellence starts before a head of cattle is even born.
"We have an extremely talented group of people working on breeding. They record everything," Yasuda says. "There's a massive database that we have, and based on that we say, 'This beef was awesome. It came from this animal and this lineage.' And over time, [we are able to] identify the best qualities to produce the greatest beef."
After a calf is born, it feeds for the first year on grass, before being put on a controlled 'ration' of locally-sourced feed. Yasuda describes it as a savory granola, containing a mix of ingredients including Idaho potatoes, molasses, soft winter wheat, and other grains. In order to develop the intramuscular fat that makes the meat so flavorful, the animals usually feed for about 500 days. That's more than twice the amount of feeding time given to most commodity cattle.
"It's really important that [the animals] have a good clean diet, because what you feed them contributes to the overall flavor of the beef," Yasuda explains. Choosing the right balance of ingredients during the feeding process is much like creating the right recipe when crafting Bourbon. Change the amount of corn, rye, or barley in a mashbill, and you'll taste the difference in the finished product.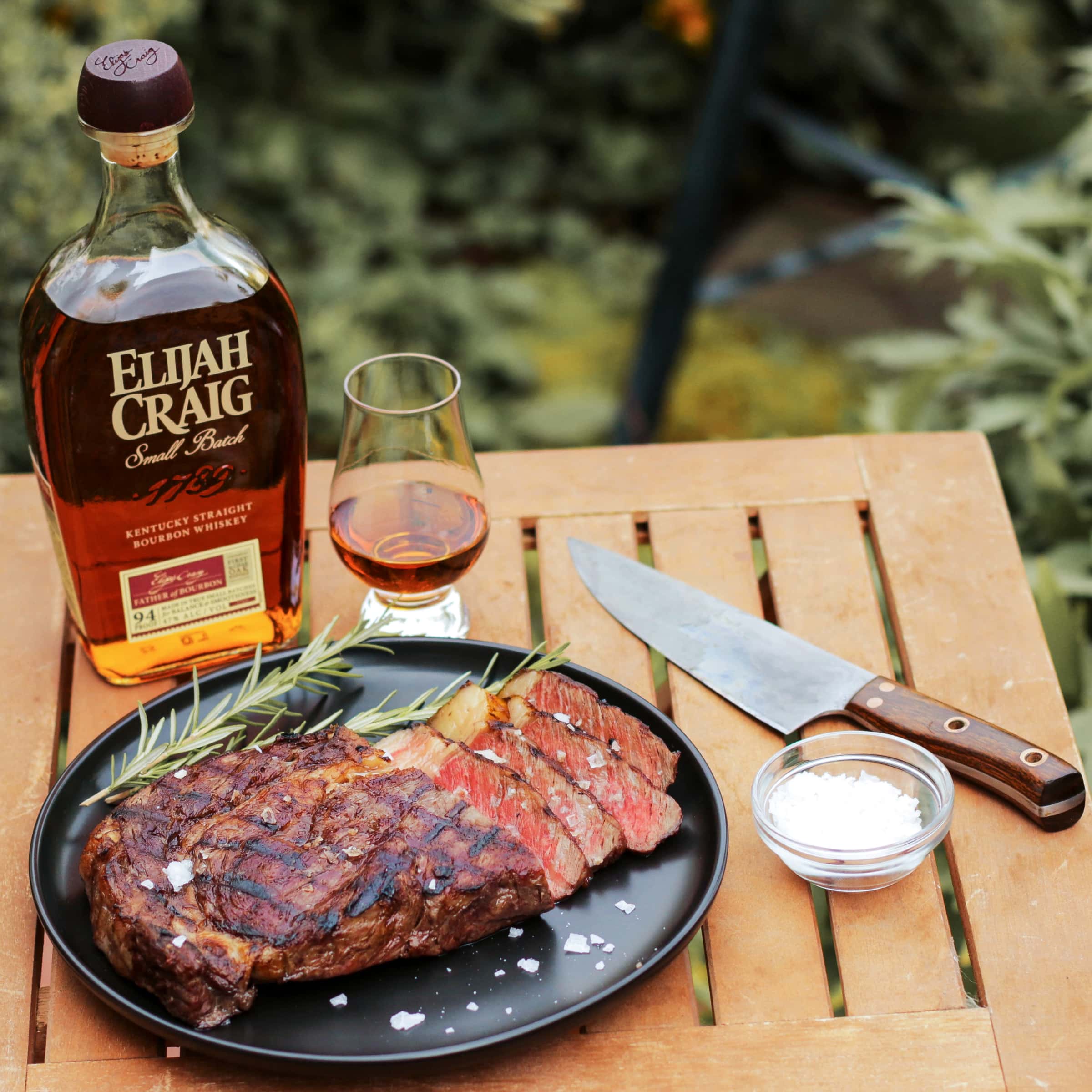 EXPERTISE IN OUR DNA
Snake River Farms doesn't just care about the quality of their animals; they care about the quality of the people who are raising them. Like Elijah Craig's parent company, Heaven Hill Distillery, Snake River Farms is family-owned and operated—and has been producing "ranch-to-table" beef for over fifty years. Their partnerships with small family-run ranches also go back decades.
"There are a lot of other people making American Wagyu beef out there, but what makes ours special is that we control all aspects of beef production from start to finish," says Yasuda. "We are unique in that way." He estimates that the whole process—from breeding the cattle to butchering and delivering to consumers—can take upwards of five years. And everything is done more or less in-house.
"What it comes down to is that, if you really want to do something awesome, you have to have some say in every point," he says. "A lot of thought and care goes into the beef – and you can taste the difference."
GREATNESS COMES TOGETHER
There's one other thing that Elijah Craig Bourbon and Snake River Farms beef have in common: unique flavor profiles and tasting notes.
"You go and talk to people in the whiskey world and they have these flavor wheels," says Yasuda. "Well, there are beef flavor wheels as well. And when you look at them side by side, you see how these components really match up well."
Yasuda recommends mixing an Elijah Craig Old Fashioned to go with a picanha steak, or sipping our Small Batch Bourbon neat alongside a ribeye. The picanha, or coulotte steak, comes from the sirloin and offers a tremendous amount of flavor and texture. "Now imagine that with the Elijah Craig Old Fashioned," Yasuda explains. "You have simple syrup and bitters complementing the sweetness and spiciness of the Bourbon, and the smokiness playing off the char you'll get in the meat. It's just a great thing."
Don't feel like mixing a cocktail? No problem. For a cut of ribeye, which has more marbling and tenderness than the picanha, Yasuda keeps it simple with a neat pour of Small Batch. "A ribeye is more luxurious...it delivers a mouthfeel of fat and really deep beef flavor," he says. "And at 94 proof, Elijah Craig Small Batch is able to cut through that nicely. I always found Elijah Craig to have notes of oak and cherry wood, and with all that fat, it's just a really nice complement."
CHANGING PERCEPTIONS
While red wine or craft beer may be the first things that come to mind when consumers think of steak, Yasuda hopes the "Whiskey & Wagyu" series will lead some people to consider new possibilities. To those who think it might sound strange, Yasuda's recommendation is simple: "Just try it!" The most important thing to keep in mind? Let these quality products speak for themselves.
"Start simply so you really get a sense of what each one tastes like, and try them both out," Yasuda says. "A little salt and pepper is going to be great on Snake River Farms beef; just like an ice cube is all you need to get the essence of Elijah Craig Bourbon. After that, there's plenty of opportunity to explore and discover new things."
Sounds great to us! To learn more about our friends at Snake River Farms and Agri Beef, visit https://www.snakeriverfarms.com.