CELEBRATED BY EXPERTS.
ENJOYED BY ALL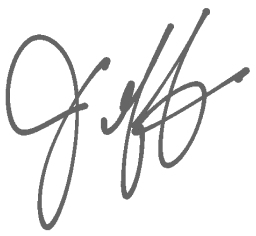 Vay Su
"An Old Fashioned uses small, exact amounts of secondary ingredients to showcase and highlight the whiskey, but that doesn't matter if you don't first start with a beautiful, quality whiskey. That's why Elijah Craig is so great in an Old Fashioned."
Vay Su,
Bear & Stone, Los Angeles, CA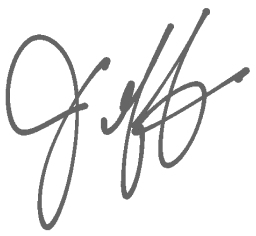 "The Old Fashioned is such a great cocktail for Elijah Craig, because it really lets the whiskey shine."
Jeffery Morgenthaler,
Master Bartender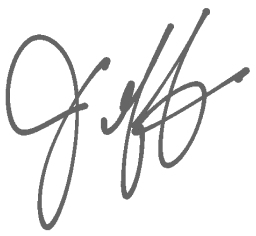 Erick Castro
"The Old Fasioned is an exercise in economy. It shows how you can create wildly complex flavors with an absolute minimum of ingredients. It's only three ingredients, but it's open to endless permutation."
Erick Castro,
of Polite Provisions
SWIPE TO VIEW MORE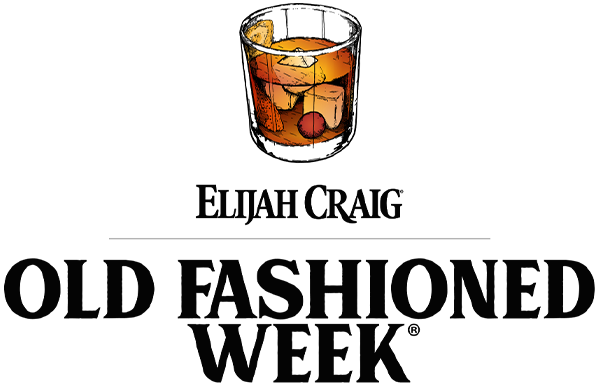 RAISING A GLASS FOR
A GREAT CAUSE
Every October, our community shows up
to
support bar and restaurant workers in
need.
Explore past events, cocktail recipes,
and more.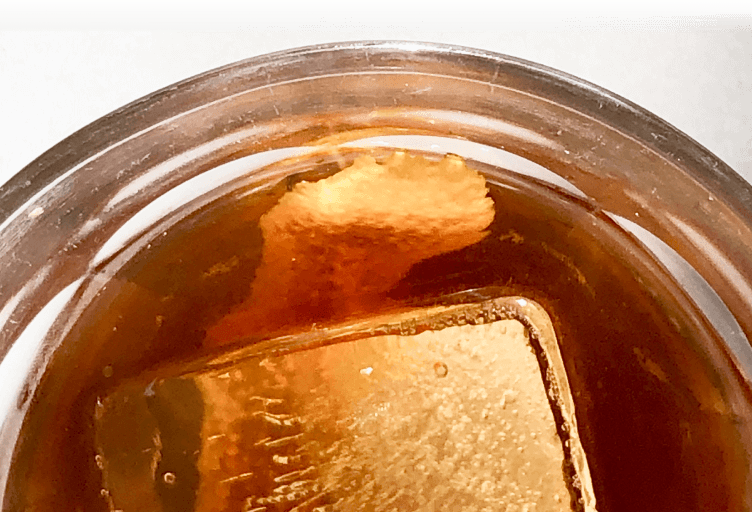 The Old Fashioned
Elijah Craig Small Batch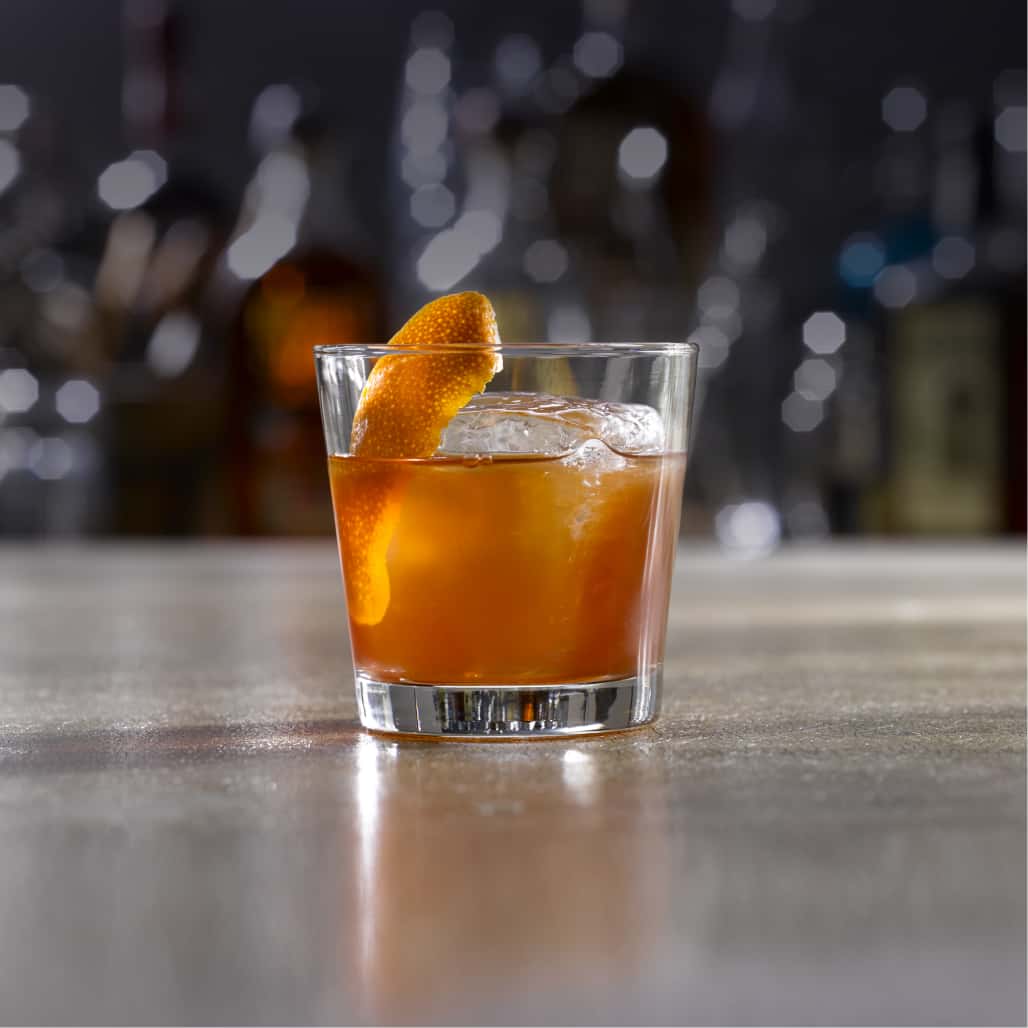 The Old Fashioned
Elijah Craig Small Batch
INGREDIENTS
2 oz. Elijah Craig Small Batch Bourbon

.25 oz. Simple Syrup

3 Dashes of Bitters

Orange Swath

1 Brandied Cherry (optional)
INSTRUCTIONS
In a mixing glass add bitters, simple syrup, Elijah Craig Small Batch, and ice. Stir until well chilled. Strain cocktail over a large ice cube in a double old-Fashioned glass. Garnish with a swath of orange and a brandied cherry.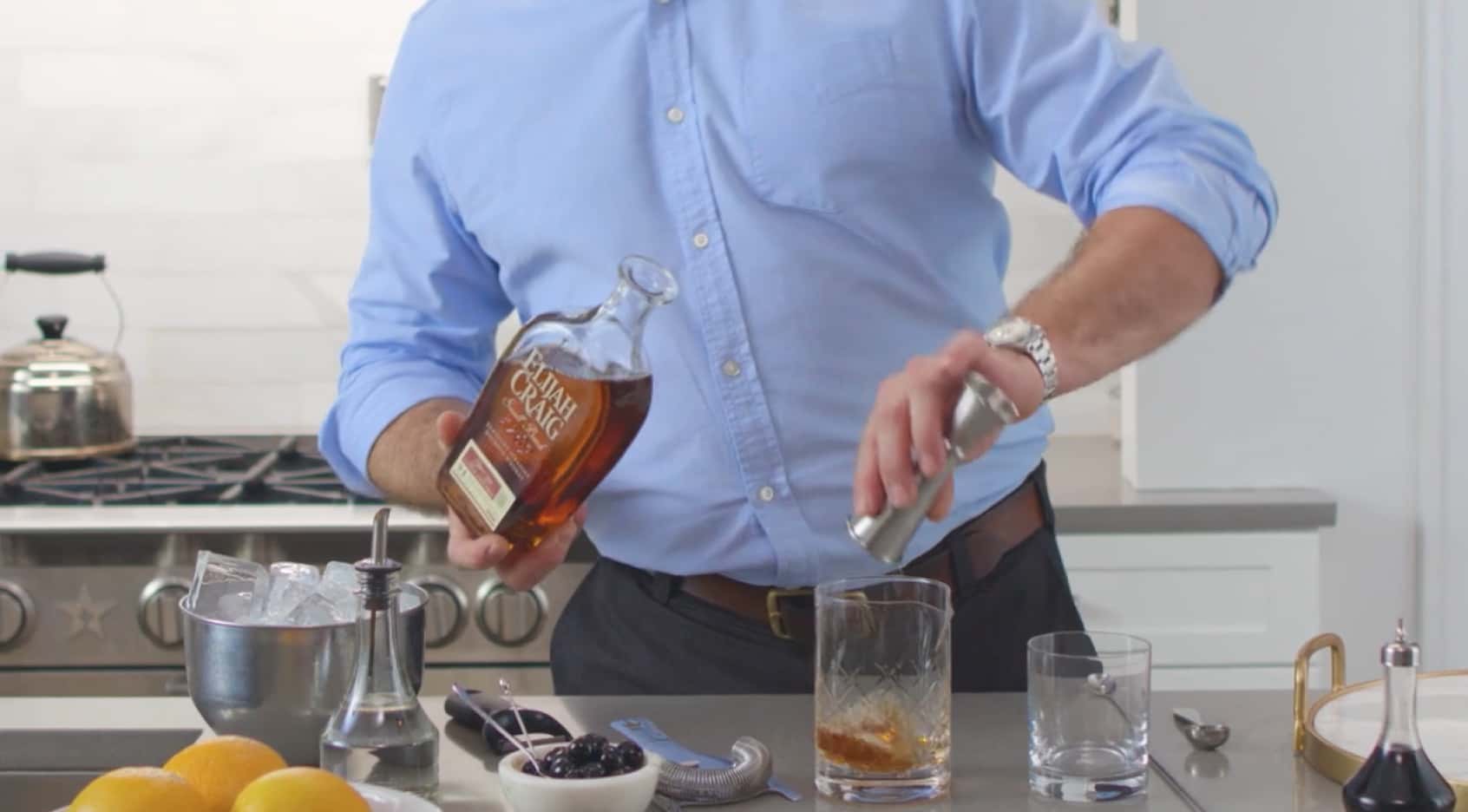 MASTERING

The Old Fashioned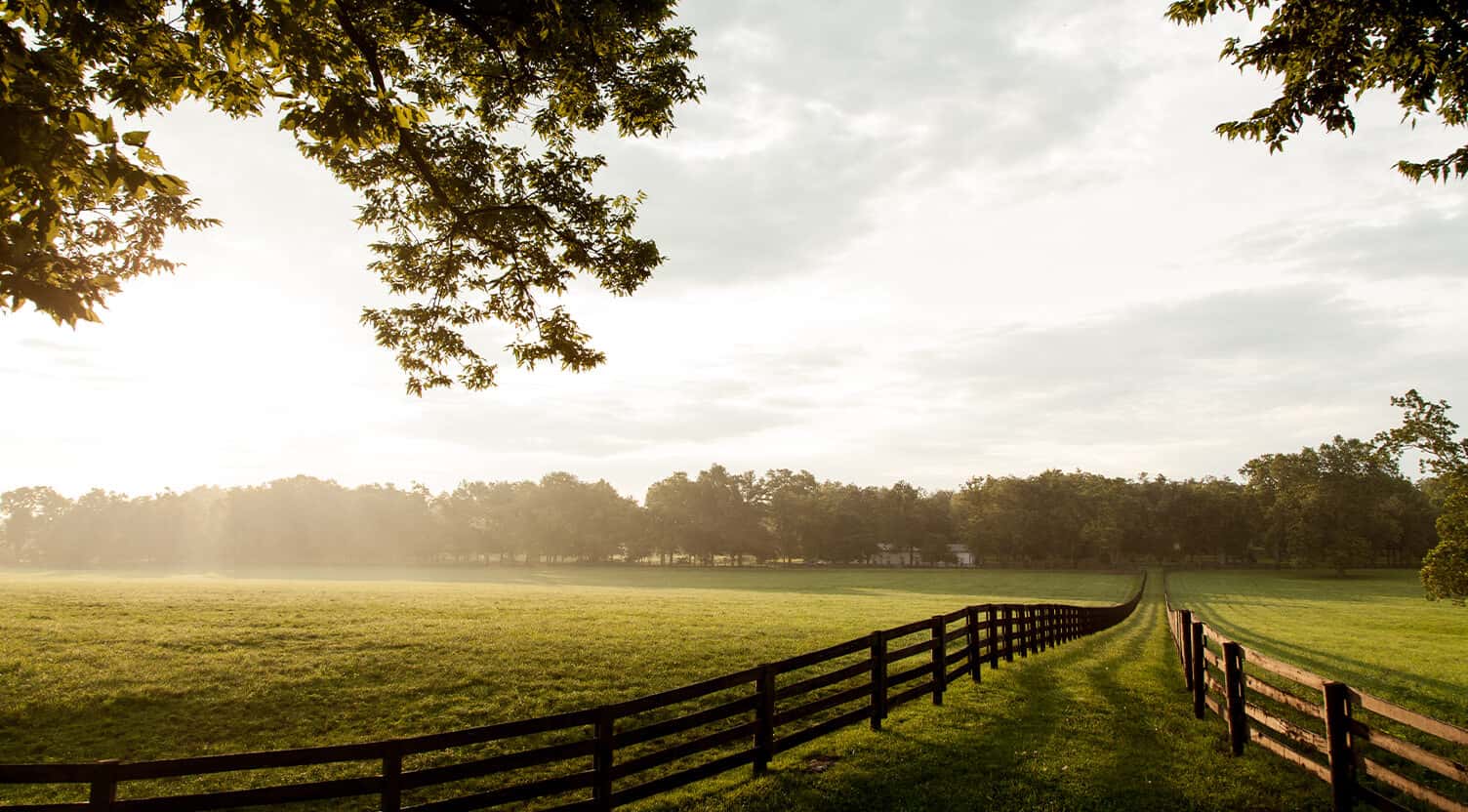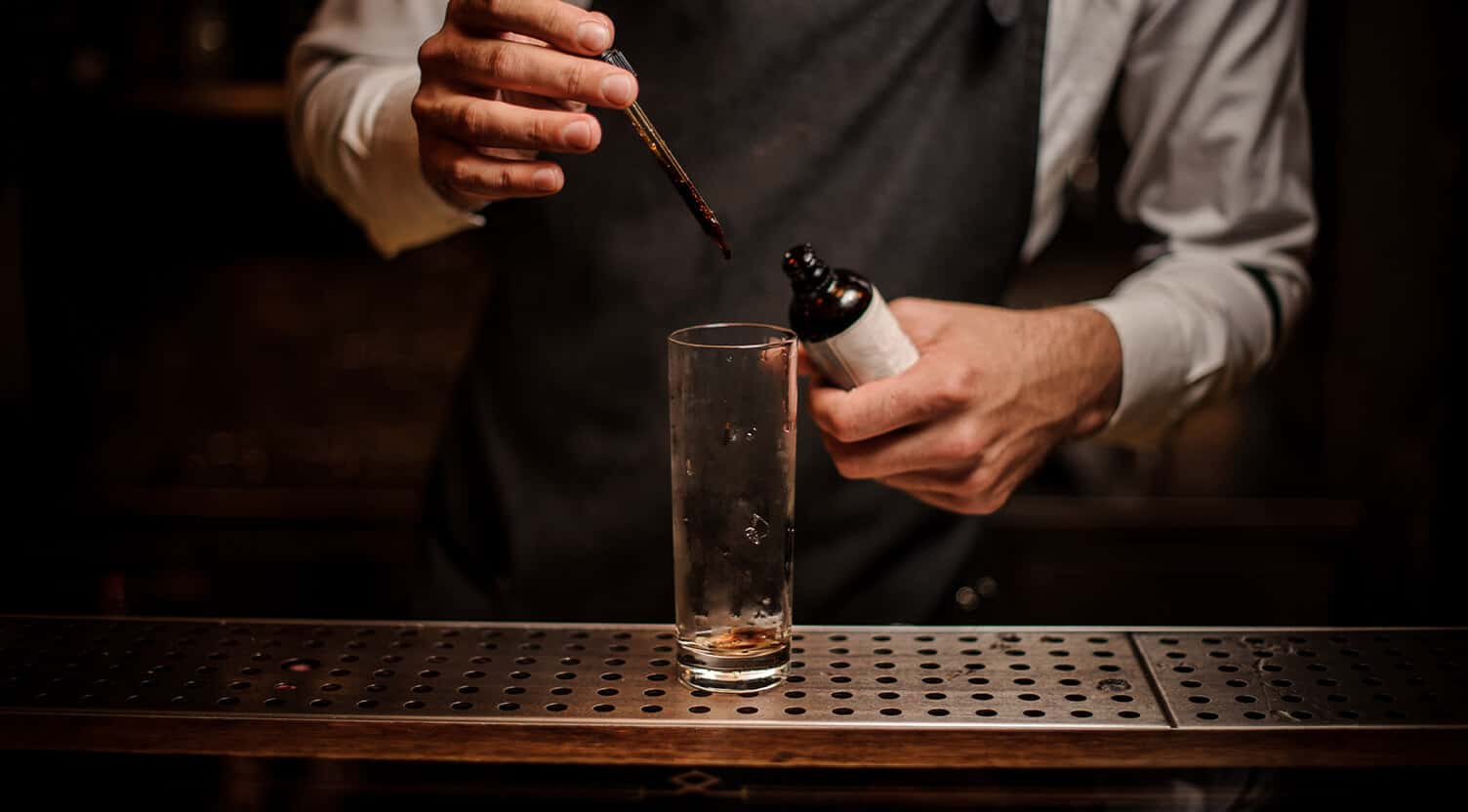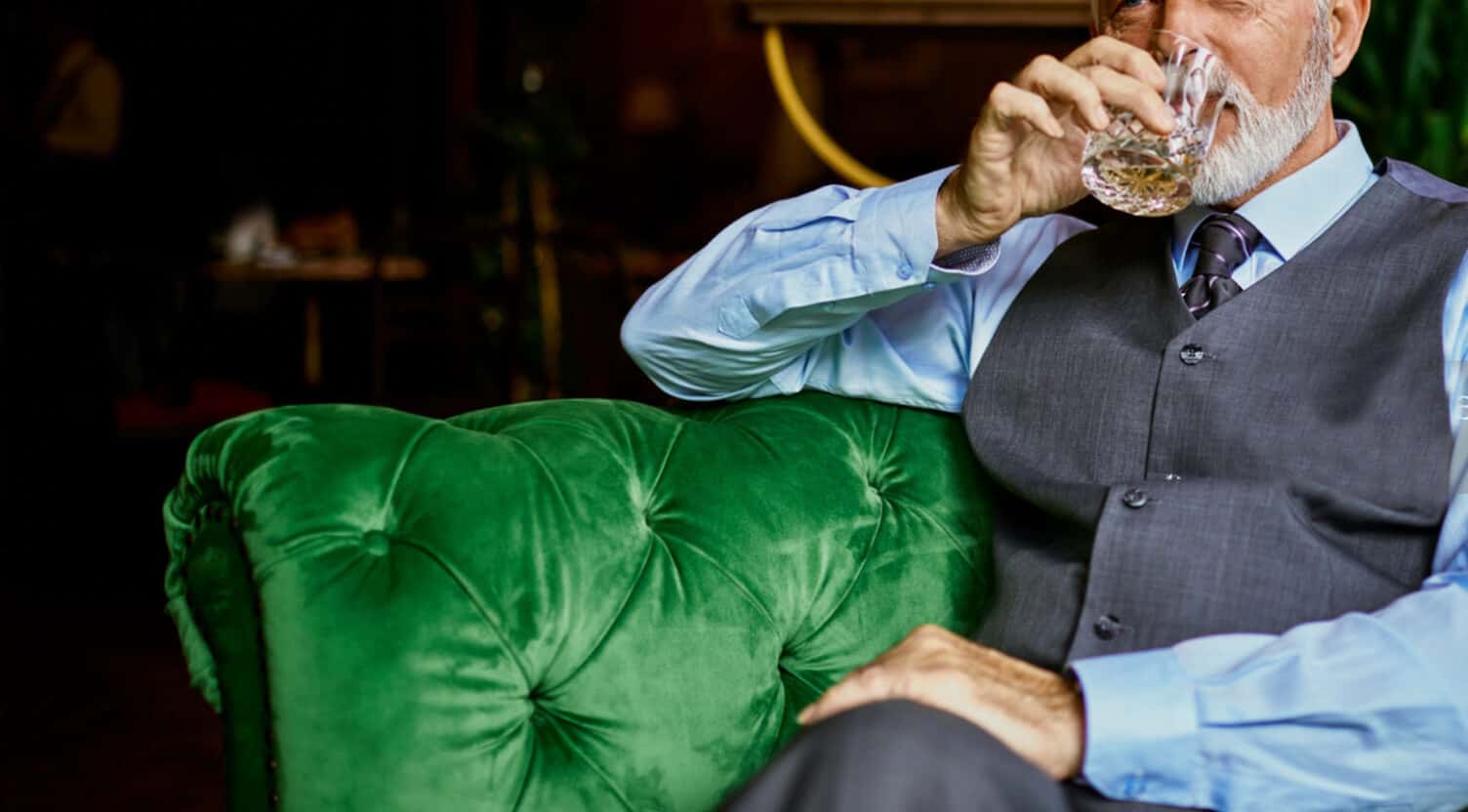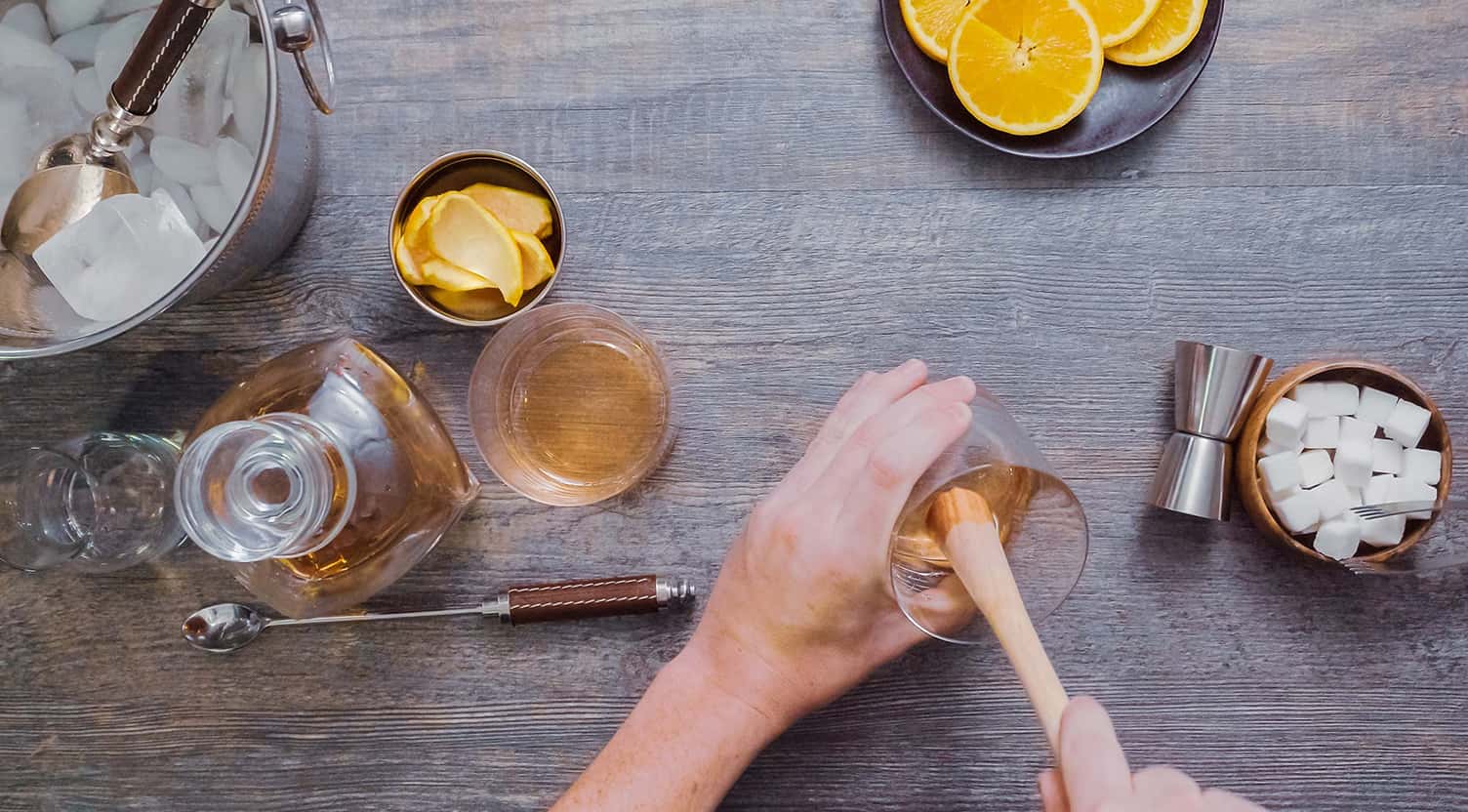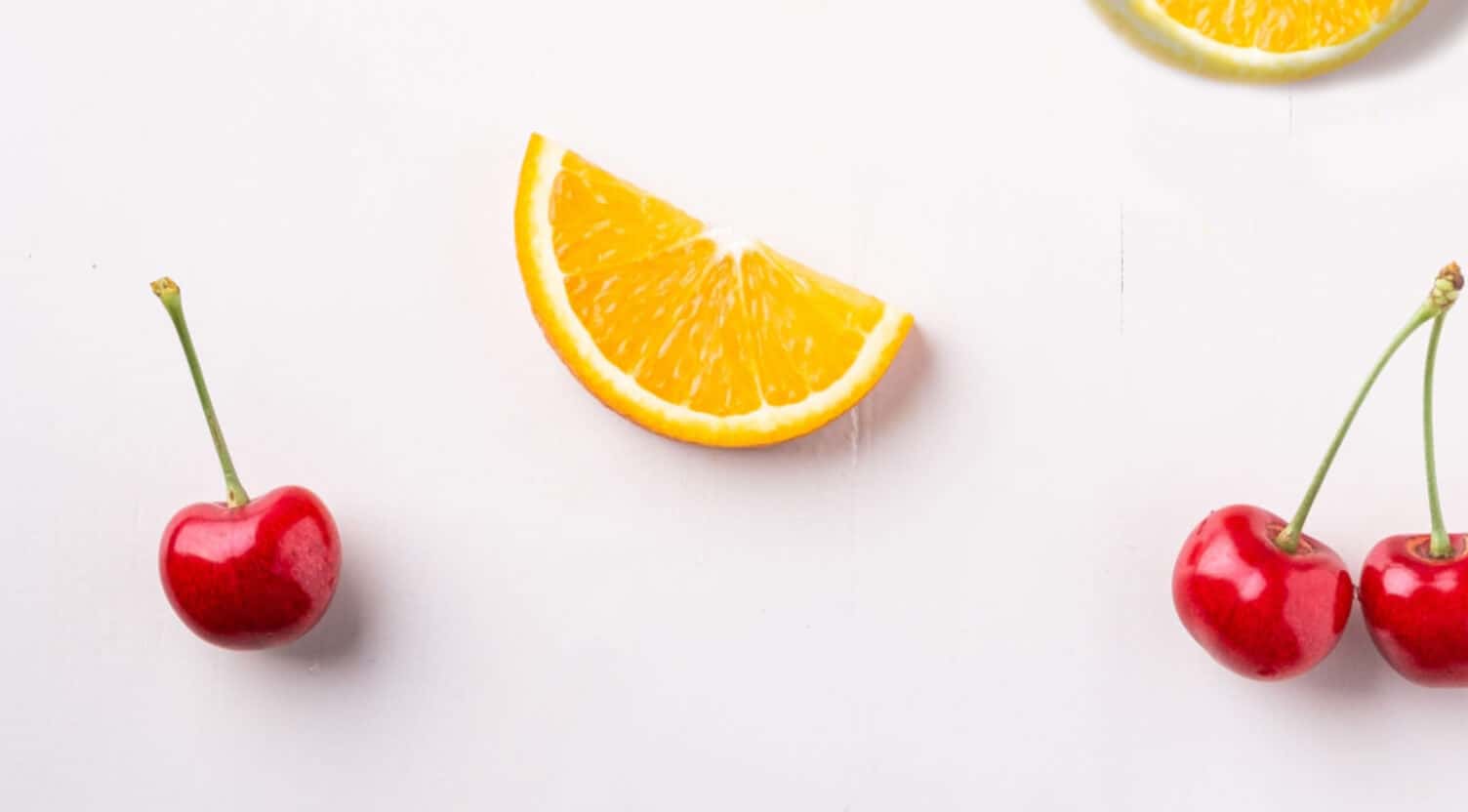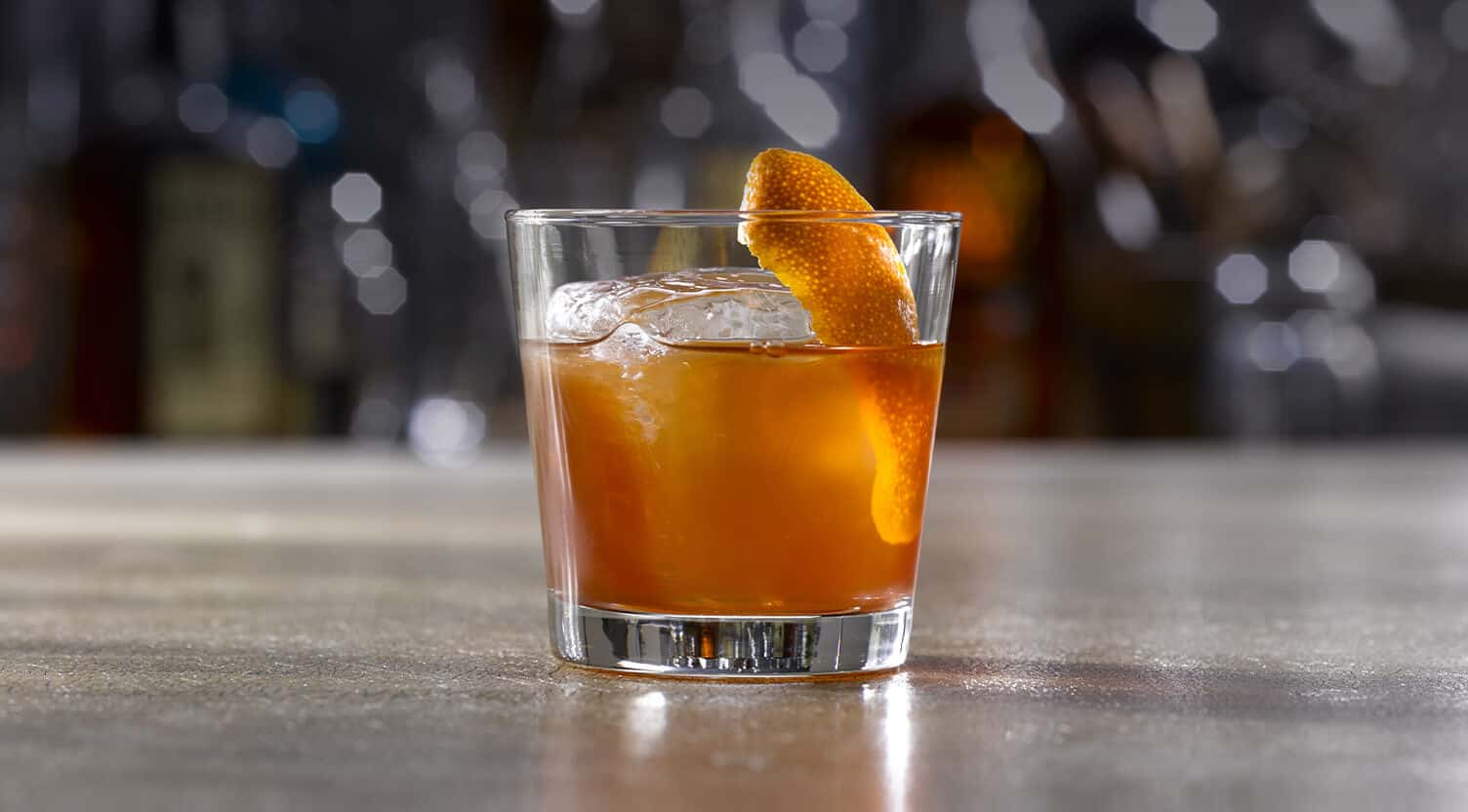 1806: The Whiskey Cocktail
The Old Fashioned was originally known as "the whiskey cocktail" and considered "matutinal"; that is, it was generally consumed in the morning.
1862: The Cocktail, Defined
Jerry Thomas's book, "The Bar-Tender's Guide," describes the whiskey cocktail as "a couple dashes of Boker's bitters, twice as many dashes of gum syrup, and a 'wine glass' of whiskey."
1880s: Name Comes Into Fashion
After years of cocktail experimentation and permutation, calls for a return to "old-style drinking" give rise to the name "Old Fashioned." The term is widely adopted.
1930s: Muddled Fruit Addition
Fruit becomes widely used as an ingredient versus a garnish. A 1936 New York Times letter to the editor claims the trend began during Prohibition, "to disguise the horrible taste of terrible liquor."
2010: Returning to Its Roots
Most of the country's top mixologist shun the use of fruit in their Old Fashioned cocktails, using an orange swath or brandied cherry for garnish only.
2015: Recognizing the Greatness Within
Drinks International recognizes the Old Fashioned as the World's #1 Classic Cocktail for the fifth year in a row.
SWIPE TO VIEW MORE
A BRIEF HISTORY OF
THE OLD FASHIONEd
In 1789, Rev. Elijah Craig was the first to
char oak barrels. Less than 20 years later,
the Old Fashioned was born. Discover the
origins of the world's first classic cocktail
with the Father of Bourbon.
Pro Tips
Make A Great Old Fashioned
A perfect Old Fashioned doesn't only impress the palate. It also pleases the eye. Employ these tips & techniques to serve up an irresistible cocktail with classic style.
Reach for the Right Glass
The Old Fashioned is so classic, it has its own namesake glass. Enjoy yours in an 8 -10 oz.tumbler that's heavy in the hand, with a thick base and a wide opening at the top.
Round Out the Flavor
Start with the standard bearer. Angostura bitters are widely available, and their spice notes and aromas complement the rich, bold flavor of Elijah Craig. From there, you can branch out into other styles of bitters, such as orange, Peychaud's, chocolate mole, or other specialty aromatics
Add A Touch of Sweetness
Sugar does not dissolve fully in cold liquid, so skip the muddled cube and reach for simple syrup. Experiment with different, high - quality sugars such as Demerara or muscovado, which complement the vanilla, spice & caramelized oak flavors of Elijah Craig Small Batch
Stir the Ingredients
The point of stirring is to chill down the ingredients as quickly as possible without watering it down. Build your drink in a specialty mixing glass or a standard pint glass. Add enough ice to fill it ¾ full and stir until the glass is frosty. Then strain into your serving glass.
Pour over Ice
For improved flavor, pour your chilled Old Fashioned into a fresh glass with a single large cube or ice ball. A large cube will melt more slowly than several smaller cubes. The visual appeal speaks for itself
Mix Things Up
For a spicier Old Fashioned, try mixing with Elijah
Craig Straight Rye Whiskey.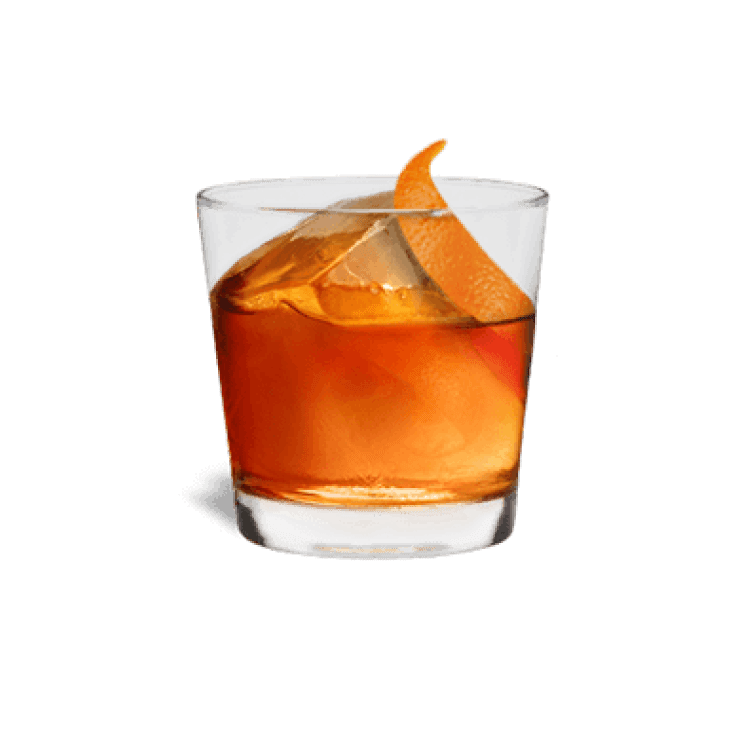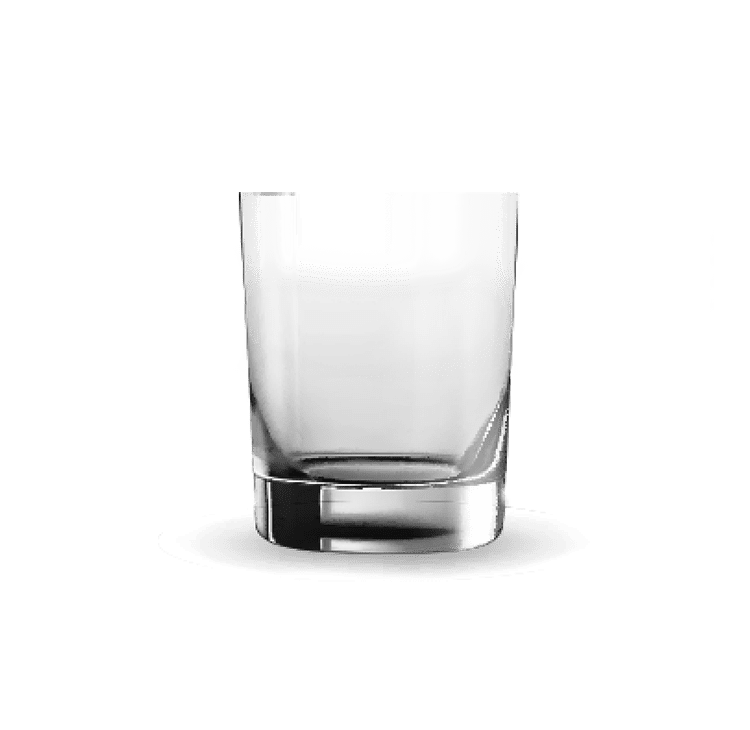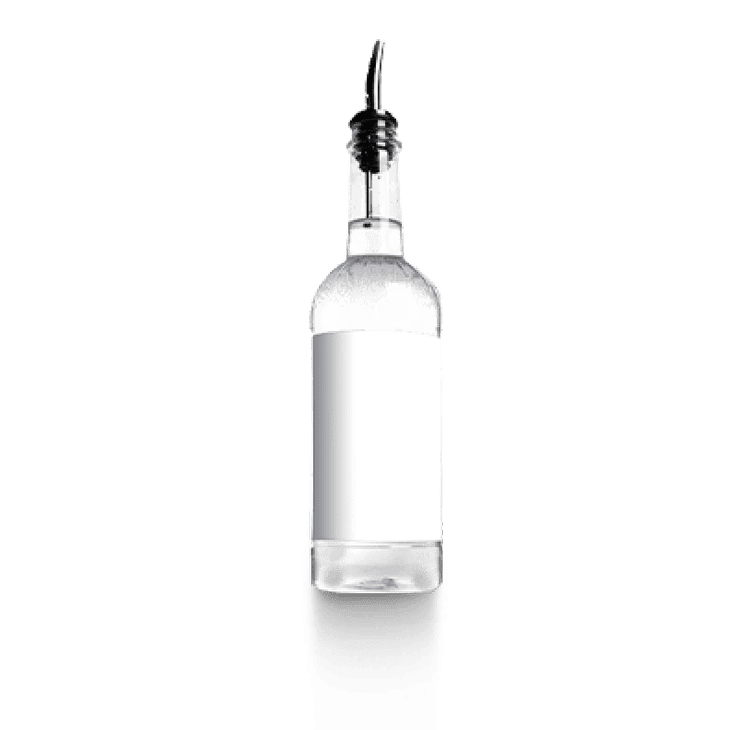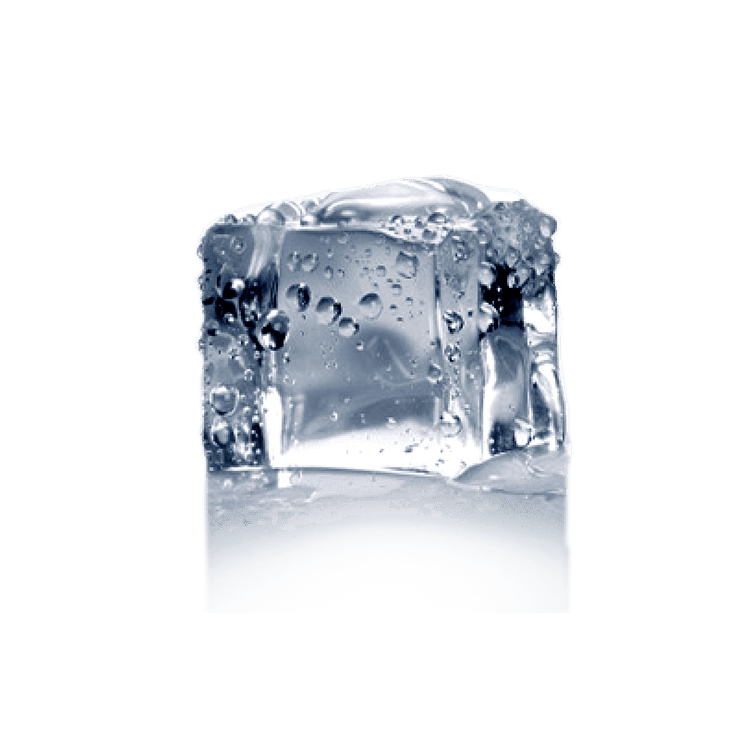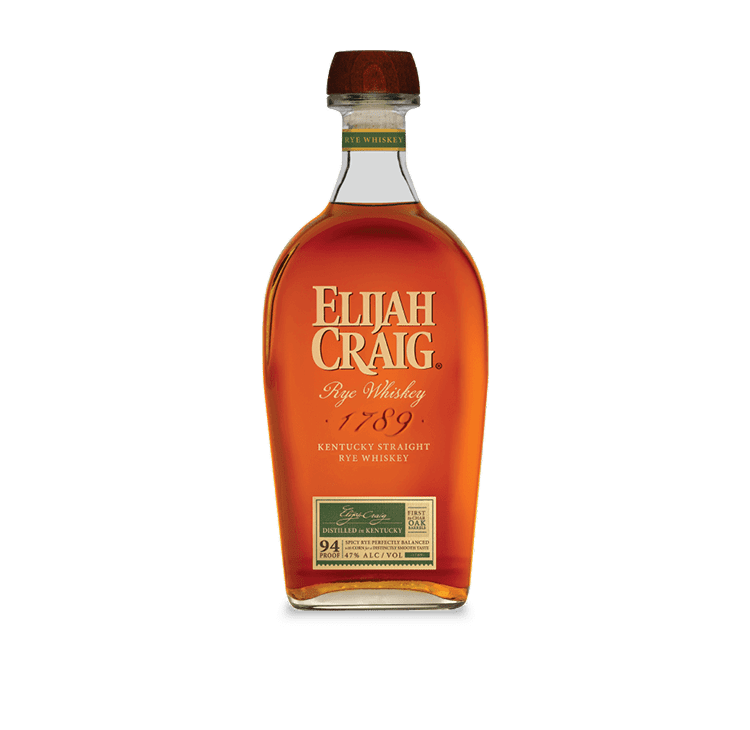 SWIPE TO VIEW MORE